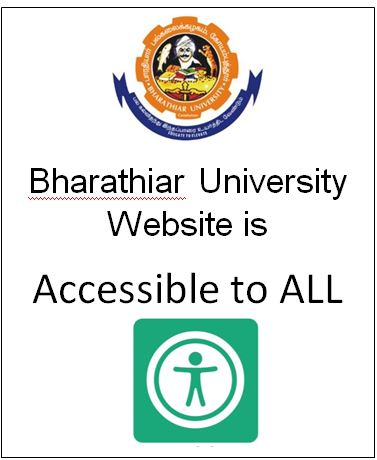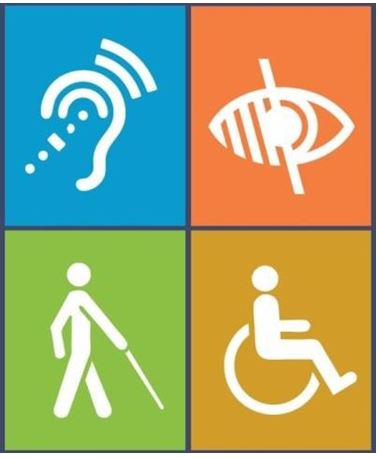 Accessibility Statement
As a basic human right, the United Nations Convention on the Rights of Persons with Disabilities, recognizes access to information and communications technologies, including the Web.
The Bharathiar University Website is developed with our best efforts in such a way that all information on this website is accessible to provide equal access and equal opportunity to people with diverse abilities. Further it is designed as a responsive website hence can be viewed from different variety of devices such as Desktop, Laptop, Mobile Phones, Tablets, etc., The website is designed to provide maximum accessibility to the users.
This website complies with GIGW guidelines to the maximum extent possible and adheres to the Web Content Accessibility Guidelines of World Wide Web Consortium. However, the accessibility to external websites given as links at different pages depends on the design of the respective websites.
The following features are incorporated in the design of the website of the Bharathiar University for Persons with diverse abilities / disabilities to make it accessible.
Screen Reader Access:
Assistive technologies like Screen Readers / screen magnifiers can be used by persons with visual disability.
Some of the free Screen Reader Software are
Non-Visual Desktop Access (NVDA- Version 2020.4) https://www.nvaccess.org/download/
Chrome Vox - Screen Reader – Chrome Browser Extension
JAWS Screen Reading Software
Magnifying Glass (Hover Zoom) – Chrome Browser Extension
Though design is made for screen reading capability, the user should use any third party software / extension at their own risk. Bharathiar University is not liable for any such use. Further, Bharathiar University do not endorse any third-party software / extensions. The information is only for quick reference.
Text Size :
The size of the text on the web pages can be adjusted by decreasing (- A) / increasing (A +) the font size from the options given at the top of each page.
Contrast Scheme:
For users with visual impairments, the website provides a high contrast scheme with yellow on black.
Skip to Main Content:
For key board only users, the navigation of the website can be accessed through the keyboard using the tab and shift keys to jump from link to link. Skip to main content given at the top of the page helps to bypass other tabs and helps to reach the main content directly.
Language:
The Website is primarily designed in English. However, to meet the requirements of global and regional users, an automatic translation tool is embedded at the top of the Home Page. 
This translation tool can help to view our website in many different languages. The translated information is only for quick reference and the user should use it on their own risk. The translated content depends on the respective software hence Bharathiar University will not be liable for the correctness of the translated contents. The content in the English language is to be referred to for the actual facts. 
Search:
A built-in search box helps to search any content / or persons of the website easily.
Sitemap:
A site-map will give a quick access to various pages of the website of Bharathiar University